Foldable phones can change how you take photos, but the Samsung Galaxy Z Fold 4 won't be the one to change image quality, if that's what you're looking for.
As Samsung keeps refining the vision it has for its flagship foldable, it has relegated the camera array to familiar territory. From the very first iteration, the cameras were holdovers from other phones in the Galaxy S lineup. It's the actual hinge and overall usability that continue to break ground for the Galaxy Z Fold line, and the cameras are really just along for the ride.
Despite swapping out the image sensor for the wide camera here, did Samsung do enough to make the camera array more viable and worthy of the hefty price for the Fold 4? Let's just say the answer is a little complicated.
Design and Build
Despite making this phone a tad lighter and thinner, it's still one of the heaviest and thickest you can carry. It may seem trivial, but you do notice it over time, whether it's as simple as pocketing it, pulling it out to look at a notification, or taking a photo.
The general design traits remain, though the 6.2-inch Dynamic AMOLED Cover screen looks better. The larger 7.6-inch dynamic AMOLED that reveals itself when you fold it open also benefits from smaller bezels. A smoother hinge still delivers that satisfying clap when folding it shut, though wielding this phone for photography requires some muscle memory.
Under the hood, the phone has no problem running apps and tasks. The new Snapdragon 8+ Gen 1 chipset, along with 12GB of RAM and at least 256GB of storage, all come together nicely. If you wanted to browse through photos and move them over to Lightroom or Snapseed by viewing them side to side, you could easily pull that off. If you wanted to edit the same photo using two apps at once, that is also easily done. That kind of utility is hard to find, and one reason why the Galaxy Z Fold 4 is unique as a mobile photography device.
The phone does support the S Pen, though only the Fold Edition or S Pen Pro, and you have no way of holstering either one unless you get a case. Try any other S Pen and a warning pops up onscreen suggesting you may damage the screen if you keep doing it. This phone is fragile in more ways than one, in spite of its IPX8 protection.
Camera Features
The wide camera in the rear is the same 50-megapixel ISOCELL GN5 image sensor (23mm equivalent) Samsung equipped in the Galaxy S22 and S22+. A new 10-megapixel telephoto camera (66mm equivalent) for the Fold 4 is also a recycled one from those two phones. Only the 12-megapixel ultra-wide (13mm equivalent) remains as a remnant for the rear camera array, an image sensor Samsung really likes to utilize where it can.
Much like the two S22 phones, the 50-megapixel sensor doesn't shoot at full resolution by default. Pixel binning drops it to 12.5-megapixels for better low-light shots, leaving the 50MP mode as an alternative when you want it. Given that the interface is pretty much the same as other Samsung phones, none of that will feel surprising.
The two front cameras have little in common. Comparing the 10-megapixel camera on the Cover screen with the terrible 4-megapixel one trying to stay hidden under the larger screen is no contest. Apart from video calls, the latter fails as a photography option. Not that it matters as much because the foldable form factor enables anyone to take a selfie using the much better rear cameras anyway, as the Cover screen displays a preview to frame the shot.
Software Features
There are no real surprises with the camera app's layout since the interface is the same as previous Fold smartphones. If you've never used one of Samsung's Folds before, you do notice how things look and feel different from other phones simply because of the extra real estate. Shoot a photo from half the screen, and the resulting preview appears on the other half.
Prop it up to rest on one side, and the controls move to the bottom half, leaving the top as a live view unimpeded by overlayed settings. It's not unlike how you tap the display button on a DSLR or mirrorless camera enough to remove all the ancillary settings details. This also works when propping up the phone in portrait orientation, making the Galaxy Z Fold 4 one of the few phones that essentially has its own mounting ability.
It's not always a substitute for a tripod but it sure is convenient for long exposure shots in Pro mode, or if you need to really hold steady for a dark Night mode shot. It's also rare to be able to keep the camera app open and have an editing app like Lightroom in a split screen setup. It would even be possible to take photos while watching a tutorial on YouTube.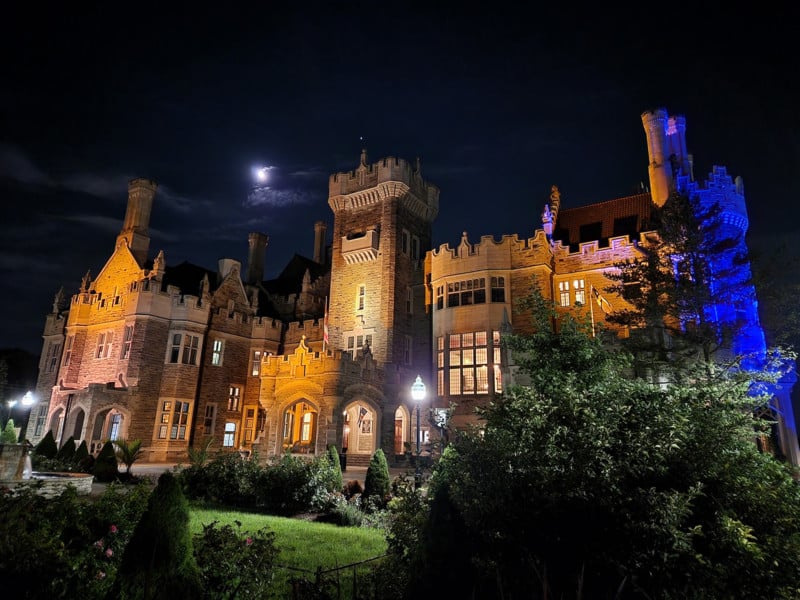 Seeing all that does bring a certain novelty to the device from a photography perspective, even if the software offers nothing new otherwise. Samsung caught onto this by including these usability points as part of its marketing campaign for the Fold 4.
Image Quality
Main camera
Getting the Galaxy Z Fold 4 to take photos means accepting a weird contrast. It's not often you see a phone that starts at $1,800, yet shoots like one that's closer to $800. It's not that you can't capture good photos, but putting it all into context draws a clearer distinction. For instance, the Google Pixel 6a starts at $449 and can deliver output on par with this phone.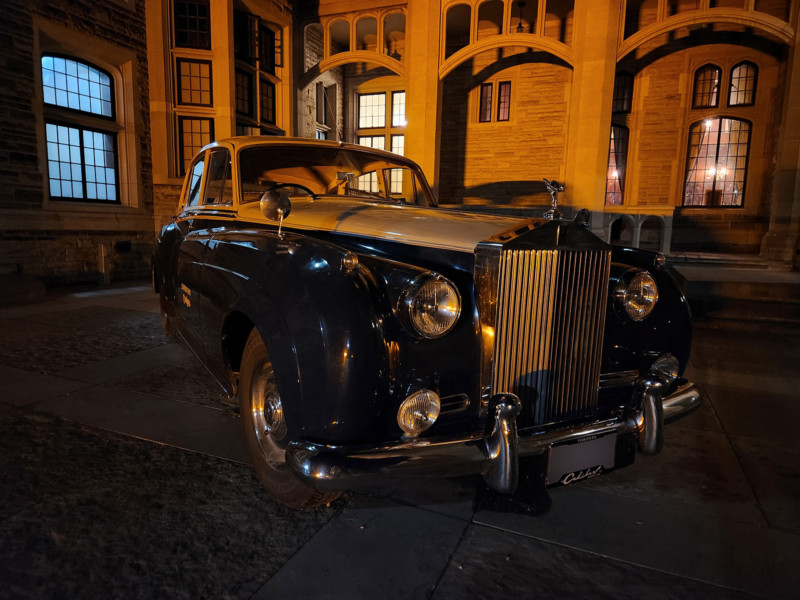 I knew what I was getting with the Fold 4 because I had previously used the Galaxy S22+ and S22. The results are the same, which is to say that you get solid images in a variety of conditions, though not necessarily what you would expect from a premium device. Maybe people don't want the Fold 4 for its camera, but if it is a factor for you, you have to measure expectations.
The good news is this iteration offers a decidedly better image sensor than the previous Folds had. Day and low-light shots are better all around. Shooting in RAW in Pro mode gives you more to work with, though noise is still an issue. Samsung also added Expert RAW support, though you have to find that app through the Galaxy Store to get it going. It helps improve RAW output a little more, and to save manual settings as custom presets you can always go to.

 
At least it's easier to shoot hands-free when flat surfaces are available to you. Much of the experimentation around this phone's camera array lies with the wide camera because it's by far the best option, including for selfies.
Ultra-wide and Telephoto
Again, nothing shocking happens with either of these two lenses. The ultra-wide image sensor has made the rounds so much even the Galaxy A53 uses it. Image quality follows suit, with the only real difference being any adjustments Samsung makes on the software side. Images aren't bad at all, though it's hard to see ultra-wide photos looking much better than they did last year.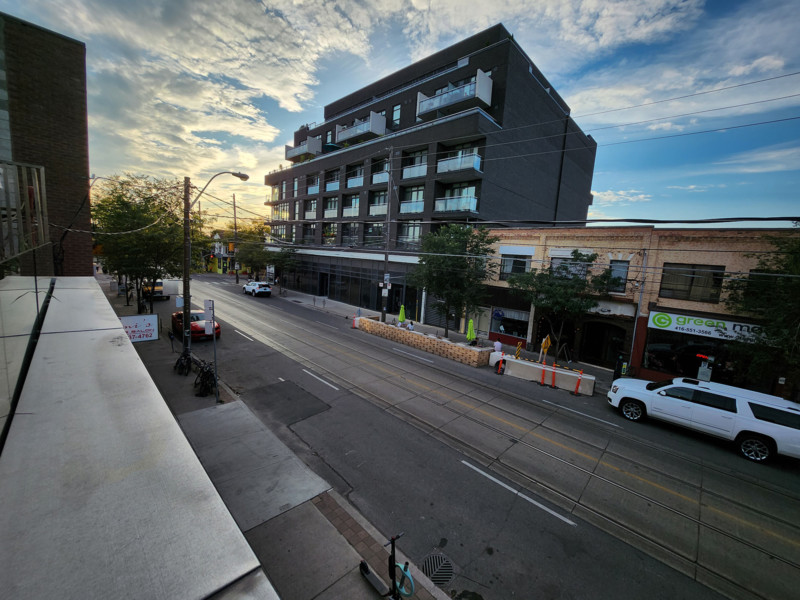 The telephoto lens is an improvement, and even hybrid zoom benefits from the better sensor Samsung went with here. Going this route also increased the optical zoom from 2x to 3x, increasing the equivalent focal length from 52mm to 66mm. Hybrid zoom shots up to 10x are pretty good, too. Things get rocky in low-light and night shots, and very shaky with active subjects, though the ultra-wide lens is less susceptible to jittery hands.
Video Features
Video is better because of the better sensor for the wide camera, and you do get all the modes you would find in other current Samsung phones. The Fold 4's unique design does make video recording an interesting exercise, partly because you can get a better grip on it, and because you can prop it up to shoot from more interesting angles.
A High-End Folding Smartphone with a Mid-Range Camera
Granted, you pay a premium for the Galaxy Z Fold 4 because of its design and screen real estate, not for the camera array it offers. You could argue the flagship Galaxy S22 Ultra was the opposite. In the absence of a Galaxy Note, the flagship Galaxy S series is what sets the tone for Samsung's mobile photography progress.
The Fold 4 doesn't move the needle forward at all, it's merely a collection of Samsung image sensors put together to incrementally improve image quality on the company's most expensive phone. No question, the foldable design presents utility you won't find elsewhere, and there is value in that for the creativity it fosters, so it's not all mediocre. Perhaps Samsung's market research for the Fold lineup indicates the camera is less important. I have no idea, but going forward, this phone will have to be capable of capturing better images.
Are There Alternatives?
The Galaxy Z Fold 4 stands within a still nascent subset of smartphones. Foldables aren't abundant, but if you wanted something like it in a more common design, the Galaxy Z Flip 4 might be up your alley. If you want similar results from a camera perspective, the Galaxy S22+ will deliver that to you.
On a tighter budget, the Pixel 6a is a fraction of the price and is arguably the best in its class. When your budget allows, and you want something few others have, the Vivo X70 Pro+ still offers one of the best camera arrays on the market.
Should You Buy It?
Not for the camera. If you're into the idea of wielding a foldable phone, despite the camera's limitations, that's a different story.
creditSource link